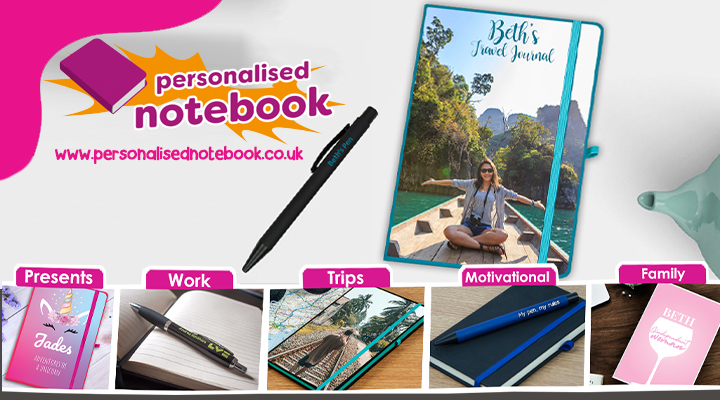 A new member of the Personalised family has launched today! As well as being able to personalise powerbanks and wireless chargers, you can now visit our sister site Personalised Notebook to personalise notebooks and pens with your very own design!
Whether you are wanting to create a new notebook for work, a travel diary for your friend or a present for a child's birthday, bringing your design to life couldn't be easier. This is thanks to our personaliser that works just like the one here on Personalised Powerbank.
Notebook Styles
There is a wide range of styles to choose from, including A5 and A6 designs:
If you are looking for a sleek notebook then we recommend our Holly Notebooks that are available in Black or White.
Or if you are looking for a colourful notebook, then our Mole is the one for you as it is available in 12 different colours!
If you want something that stands out from the crowd, then our Holly Edge is perfect. This design comes in Black, but the edges of the pages, pen holder and the closing band is available in a range of colours.
Our Pens
What good is a notebook without a pen? We know that they go together like strawberries and cream, which is why Personalised Notebook also offers a great range of pens that can also be personalised with an image and/or text. Together our collection of pens and notebooks make the perfect combination.
There are two pens to choose from here at Personalised Notebook. The first is our Curvy Pen which is a classic pen that is alliable in several colours. The next is our Stardust Pen which has a soft touch feel, is available in several colours and can be engraved with your message or name.
So, what are you waiting for? Click here to start creating the perfect gift or treat for yourself!