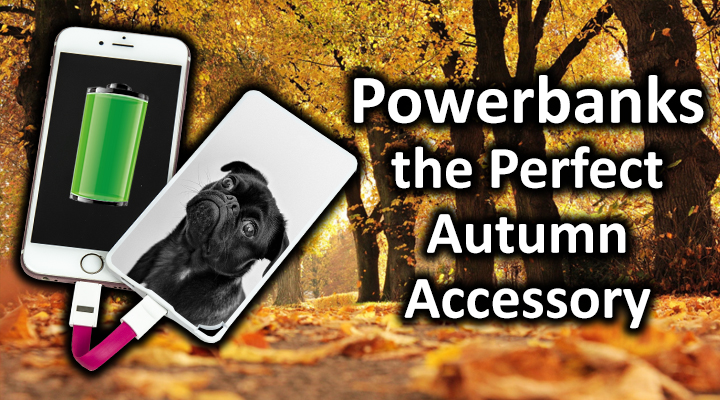 The days are getting shorter, there is a chill in the air and seasonal products can already be found in the shops. Which can only mean one thing, summer is well are truly over and winter is on its way. Jumpers, hats and boots may be your go-to Autumn accessories, but Personalised Powerbanks should also be on your list and here's why:
Keep charged wherever you go
No one likes to lose charge, especially when it's cold and dark outside and you are waiting for a taxi to pick you up or your car has broken down.
Our Powerbanks are the perfect accessory as they are easy to store in a bag, pocket or car meaning they are there to rescue you in your time of need. With our most powerful powerbank providing up to 8000mAh of charge, it will be able to provide up to four full charges to most smartphones.
Keep the sun with you
When the rain starts and you are sat wrapped up on the couch for the first time since last winter, we guarantee that your mind will wander back to your last holiday. A time when you were laid on the beach nice and warm, with the sun on your face.
With a Personalised Powerbank, your holiday doesn't have to be a distant memory. You can place your favourite image on your powerbank and carry it with you wherever you go. So, no matter how miserable the weather gets in the UK, you will always have a bit of sunshine.
They make the perfect gift
Thanks to all of these traits, as well as a treat for yourself, our powerbanks also make the perfect gift. So, if you are looking for a personalised, practical and reusable present that your friends and family will love, you need to choose one of our Powerbanks!
So, what are you waiting for, order your new Personalised Powerbank today on our website!