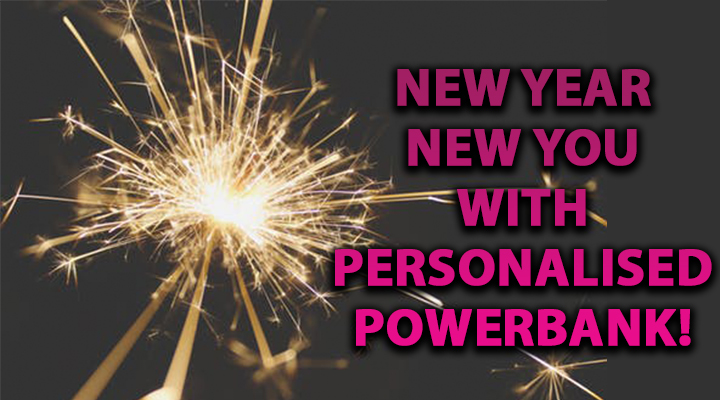 Personalised Powerbanks! Nothing quite reminds you that Christmas is over then your first full week back at work! There's the usual stress of catching up on emails, trying to lose those extra Christmas pounds and having to wake up before it gets light outside. but this year with the extra stress of a Global pandemic and lockdown 3.0, have you already broken your New Year's resolutions?
If you decided that this was the year that you got organised never lost charge at a crucial moment again, then Personalised Powerbanks can help you keep this resolution all year round!
If you are filling a friend in on some juicy gossip, wishing a family member a happy birthday, have broken down at the side of the motorway, or are taking a photo of an unforgettable moment, the last thing that you want to happen is for your phone to lose charge.
Here at Personalised Powerbank, this never has to happen to you again when you purchase one of our powerbanks. As when your phone or electronic device drops below the dreaded 10%, all you have to do is pull the personalised powerbank out and plug it into your phone for instant charging.
Personalised Powerbank Options
All of our personalised powerbanks have a capacity of 2200mAH or higher, which means that they are powerful enough to provide most smartphones with a full charge. So, no matter how quickly that battery runs out, you don't have to have your charger on you and a power supply near you in order to finish that important call.
We have a number of powerbanks to choose from. If you are looking for a device that holds the most capacity, then you need to look at our 8000mAH Powerbank Plus. This incredible Powerbank has enough power to fully charge your phone twice or even charge two electronic devices at the same time.
If you are looking for a Powerbank that is compact and easy to carry around, then we would recommend the Cuboid Metal Powerbank or our Credit card Powerbank. Both will fit into a bag or pocket easily, whilst ensuring you don't lose charge.
So, if you never want to get caught out on 1% again, make sure you purchase one of our Personalised Powerbanks today!