Here at Personalised Powerbank, we currently have 6 styles of powerbanks to choose from. But with each being a different size and having a different charge capacity, how do you know which Powerbank option is best suited to your needs? To help you choose, we look at each of our styles below!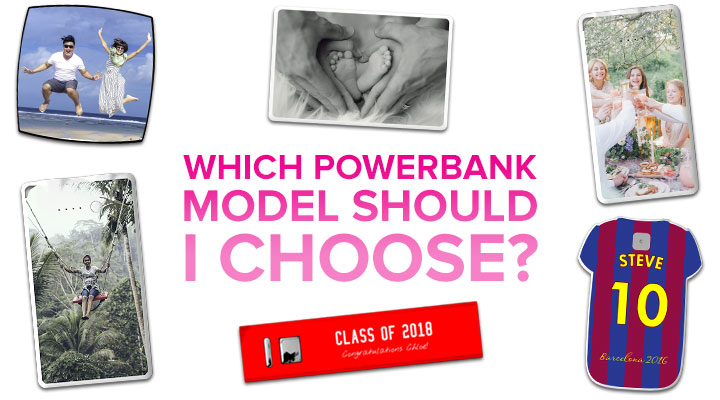 Our small, but mighty cuboid metal powerbank option has a 2200 mAh capacity and is available in a range of colours. It may be the smallest of our range, but it still has enough power in its battery to charge most smartphones! Perfect for small photos or message, you can design your new powerbank online today.
Charging smartphones to their full capacity is no match for the flat powerbank, with a 4000 mAH capacity it can even recharge some smartphones twice. With such impressive power, this device is perfect for when you're out and about and need to recharge a range of devices such as smartphones, tablets or any other USB powered device.
With a capacity of 8000 mAH, our Powerbank Plus is the most powerful of all our range and is the perfect choice for those who are constantly running out of charge. To hold such a large capacity, this powerbank is also the largest of our range and has two USB outputs so you can charge your phone and tablet at the same time!
This slimline powerbank option is a credit card-sized and ideal for storing within your wallet or purse, so it is always on hand when you need it. With a 2500 mAH capacity, it can charge most smartphones to full power! It may be small but this powerbanks is perfect for adding your favourite photo so that it can be kept with you as a momentum.
The perfect item for football fans, this football shirt power bank has a massive 4000 mAH capacity and is perfect for showing your support to your favourite team! With a range of colours and styles to choose from you can quickly and easily design your new powerbank and keep your phone charged even when you are at a football match.
Now you know which powerbank option is best suited to your needs, quickly and simply design yours today!