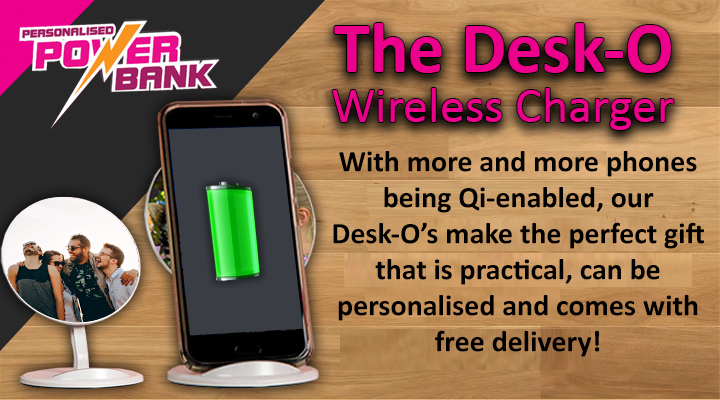 Our Desk-O is the newest item of the range and is our first wireless charger. With more and more phones being Qi-enabled, they make the perfect gift that is practical, can be personalised and comes with free delivery.
1. Personalise
Personalising your wireless charger is as easy as any other product in our range! From our online designer, you can upload your images from your desktop or social media. Then once you have done this, you can then add any text that you desire.
So, choose your favourite image of you and your friend or family member, or one of their favourite photos and you instantly have a unique present that they will love.
2. Quick, Easy Charging
Our Desk-O charger is easy to design, even easier to use and extremely handy to have around. All the user has to do is simply plug the wireless charger into a USB port, place their phone up against it and it's are ready to go.
All you have to do is ensure the person you are going to gift our Desk-o to has a Qi-enabled phone and they will have effortless charging just like that! Making it the perfect present that will be used again and again.
2. Free Delivery in 3 Working Days
All of the products on our website have free delivery, so there are no hidden costs and the price you see is the price you pay.
We will also ensure that your products are delivered to you within 3 working days, meaning even if you have left purchasing a present to the last minute, our chargers and powerbanks will be with you in no time.
So, what are you waiting for? Click here to design a Desk-O Wireless Charger today and create the perfect gift for a loved one or even a treat for yourself.