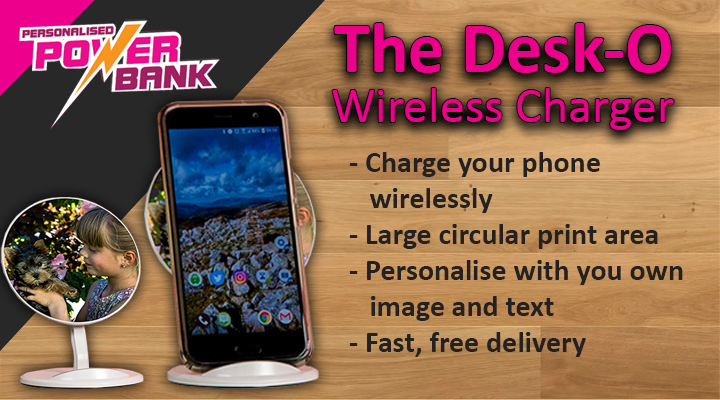 If you have a phone that is Qi enabled, then you can say goodbye to the old way of charging your phone and hello to easy wireless charging. But, don't just choose any Wireless Charger, choose one that you can personalise and make your own, choose a charger from Personalised Powerbank.
The first item in our wireless charging range is our Desk-O. This new item features a large print area (114mm diameter), which is perfect for showcasing your photos and allows you to wirelessly charge all smartphones that are compatible with wireless charging.
Personalising your wireless charger is as easy as any other product in our range! From our online designer, you can upload your own images from your desktop or social media. Then once you have done this, you can then add any text that you desire. Once you are finished, click 'add to cart', enter your details and your Wireless Charger will be with you in 3 working days.
Our Desk-O changer is easy to design and even easier to use. Simple plug your wireless charger into a USB port, place your phone up against it and you are ready to go. Effortless charging just like that.
Thanks to its design, the Desk-O also doubles as a phone stand for any size device, allowing you to also watch a movie horizontally or vertically, whilst your phone charges.
So, what are you waiting for? Click here to design a Desk-O Wireless Charger today and create the perfect gift for a loved one or a treat for yourself.