This week here at Personalised Powerbank, we look at some facts you may not know about our powerbanks.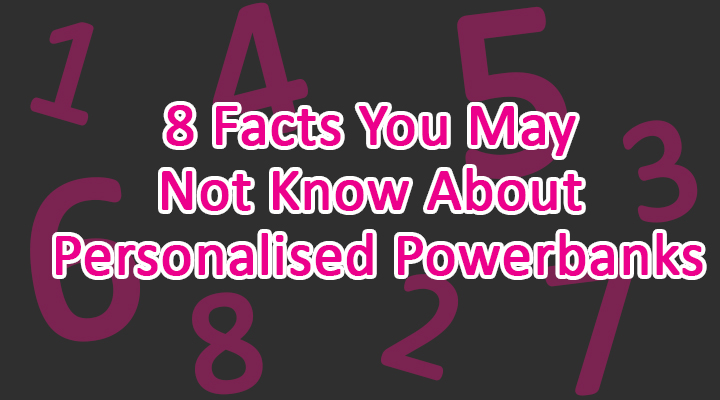 Powerbanks can charge any electronic device
Although our Powerbanks are most commonly used to charge mobile phones, this isn't all that they are capable of charging. Our powerbanks can charge any electronic device that has a USB cable. So, whether it is your iPad, digital camera or laptop that needs that extra boost, simply plug it into one of our devices and are ready to go.
Some of our Powerbanks can charge two devices at the same time
Our Shirt Powerbanks and Powerbanks Pluses have two USB ports, which means that that they can charge two devices at the same time. Thanks to their large capacity, they are perfect for dual charging and should be able to fully charge two phones at the same time.
The fastest way to charge your phone
Smartphones are constantly browsing for data, receiving data and updating the latest software, all of which consumes more battery power. So, if you want your phone to charge quicker, whether it's using a powerbank or a plug socket, put your phone on aeroplane mode.
How Is Wh Calculated?
Here is the method to find Watt Hours: Just take Milliamp Hours/1000 x Voltage = Watt Hours (mAh)/1000 x (V) = (Wh). For example, our Powerbank Plus which has an 8000 mAh and an output voltage of 40 = 8000 mAh / 1000 = (8 x 5V) 40 Watt Hours.
PowerBanks are prohibited in the cargo hold on flights
Airlines do not allow power banks in the cargo luggage for safety reasons. Power banks are essentially batteries that utilize lithium cells that are more likely to combust and are therefore prohibited for cargo transport, as part of air-transport regulations. They are however allowed to be taken on board in hand luggage. To find out more click here.
You can also create your own Gift Box to hold your Powerbank
For only an extra £10.00, each of our powerbanks is available with a gift box which has laser engraved foam inside to perfectly hold the powerbank in place. The lid of the box can then also be personalised using our online design portal to create a special gift that looks great and can also be kept as a memento.
Wireless chargers are available at Personalised Powerbank
Our Desk-O changer is easy to design and even easier to use. Simple plug your wireless charger into a USB port, place your phone up against it and you are ready to go. Effortless charging just like that.
Delivery in 3 business days
No matter which powerbank you choose, or your order total, you will receive free delivery and because our offices are within the UK, you will receive your powerbank within 3 businesses days.