Here at Personalised Powerbank, we have a total of five powerbanks to choose between. We have metal powerbanks that can be laser engraved and powerful ones that can charge two devices at the same time! The smallest of our range is the Cuboid Metal Powerbank, but that doesn't mean it's not mighty!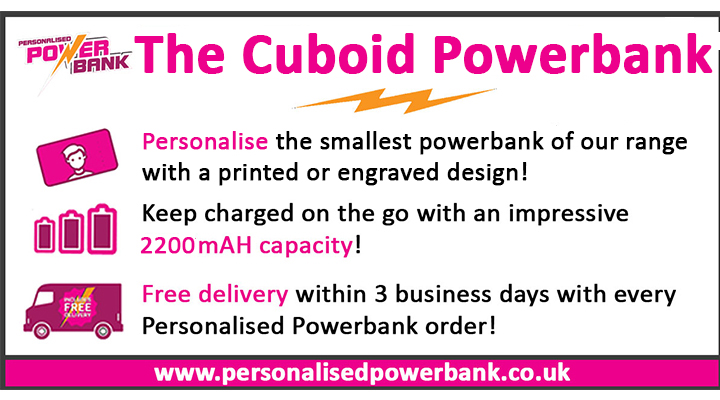 With a 2200 mAH capacity, this powerbank is powerful enough to give you phone the extra boost it needs to stop it from losing charge. Making it a must-have if you're out and about for the day and know that you will be using your phone frequently.
Colours
To help you create a powerbank that is well suited to your needs, our Cuboid Powerbanks are available in a total of eight different colours. Your options include White, Red, Orange, Green, Blue, Purple, Yellow, Silver and Black, so you can create a truly unique powerbank.
Personalisation
We wouldn't be called Personalised Powerbank if you couldn't completely personalise our powerbanks. If you choose to our 'Cuboid Metal Powerbank' our easy-to-use designer will allow you to upload any image from your desktop or social media, position it correctly and then add any text, your design will then be printed on your powerbank.
Your other option is to choose our 'Cuboid Metal Powerbank Engraved,' which allows you to use our easy-to-use designer to add any text to your powerbank. Your design will then be engraved onto the power bank, to give a more premium feel.
Other
All of our power banks are printed in the UK and are suitable for charging any smartphone or tablet. Charge your iPhone, Android, iPad as well as other devices like a Kindle, FitBit, GoPro cameras and more!
With all our Powerbanks no matter if you order one or ten you will receive fast, free delivery within three business days!
All of these qualities don't only make our most popular powerbank a great treat for yourself, it also makes the perfect gift. So, for that next birthday or special occasion, why not get your loved one a present they will love and can use regularly with a Flat Powerbank.
Click here to start creating your very own powerbank today!