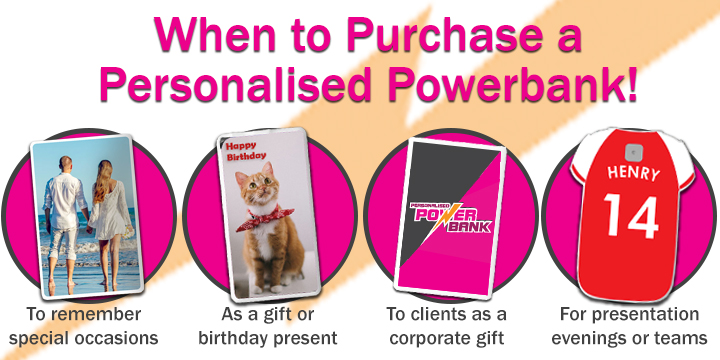 How do you feel when your phone loses battery when you're out of the house? Do you panic because you can't text your friend back? Do you get withdraw symptoms because you can't check social media? Or do you smile because you know that you have your Personalised Powerbank on you and can charge on the go?
If you didn't choose the last option then it's about time you purchase your very own personalised powerbank, but don't just choose any powerbank, choose one that you can make your own, choose a Personalised Powerbank.
The personalisation part of our powerbanks is what makes them different and creates several reasons why you should buy a Personalised Powerbank.
Add your image to one of our power banks to create an ideal birthday or Christmas present for friends and family.
Commemorate an anniversary, wedding, stag do, hen night or a special day out.
Keep a favourite photograph of your children with you all the time. It's a 21st century alternative to keeping a photo in your wallet.
A branded power bank is a great way to remember a great sporting event or occasion
Our Shirt Powerbanks are the perfect gift for presentation evening and sports events.
Design your personalised powerbank for a lasting memento of a special holiday, festival or trip
Print a photo of your pet and keep your favourite fluffy friend with you always!
As a going-away or graduation gift for students, or anyone going travelling. Be the one who makes sure they can get online no matter how far away from the UK they go
Print a custom logo power bank. It's a great and visible advert for your business endeavours, and a personalised powerbank with your logo is both memorable and functional!
Buy a power bank for customers or clients as a corporate gift. Power banks can even make a great gift set, showing a valued customer how much their partnership means to you
So, what are you waiting for, design and purchase your own personalised powerbank today!