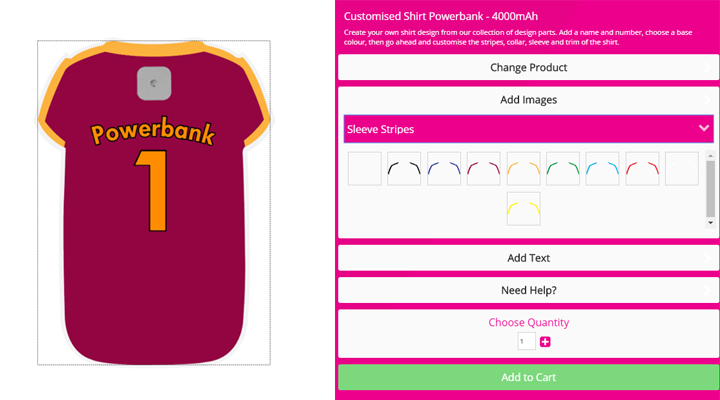 If you are a sports fan or know someone that is, then our Shirt Powerbanks are the perfect accessory for you. But now even more so! As this powerbank can be customised on our online designer to look just like your favourite teams' shirt.
Creating your new Customised Powerbank couldn't be easier, simply follow these simple steps:
Visit our website www.personalisedpowerbank.co.uk and under the 'Powerbank' dropdown select 'Shirt Powerbank – 4000mAh' and 'Design Yours Now'.
Once in the online powerbank designer, under the 'Change Product Section' select the 'Customised Shirt Powerbank'. And then 'Add Images'.
Here is where you can design your very own Sports Shirt. When you click on the drop-down bar, it will bring up sections where you can choose from a number of options. Theses are your shirt base colour, stripe design, collar colour as well as several other options.
You can then add text and a number to your shirt to make it truly unique using our 'Add Text' section on the designer.
Once you have designed your perfect Shirt Powerbank simply click 'Add to Cart' and enter your details. Your powerbank will then be with you in three working days.
As well as being a great treat for yourself, these Powerbanks also make the perfect gifts. They are great for sports fans, presentation evenings or as part as a raffle at a sports club.
If you want to add your own image to your Powerbank then please select the 'Shirt Powerbank' under the 'Change Product' section of the online designer.
To make our sport power banks even more special, you can also design a gift box for it to be given in. Like all of our products, these boxes can be personalised with your own image and text. They are fitted with bespoke cut foam to hold the powerbanks in place. Creating a truly memorable gift.
Click here to start designing your Shirt Powerbank.