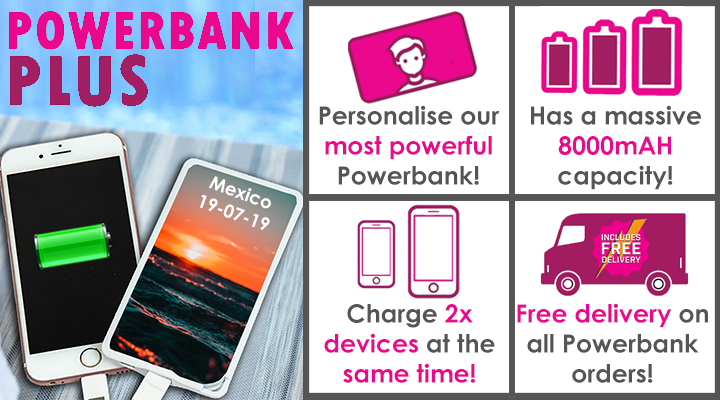 If you know someone that is obsessed with technology and can't leave the house without their phone, then a Powerbank makes the perfect Christmas gift! But, don't just choose any Powerbank, choose one that is powerful, portable and can be personalised with your own design, choose the Powerbank Plus from Personalised Powerbank.
When you choose this Powerbank as a gift, you will become their favourite person and here's why:
With an incredible 8000 mAH capacity, the Powerbank Plus is the most powerful of our range. In fact, it is so powerful that it has the ability to fully charge an iPhone X nearly three times!
With two USB outputs, it is unlike any other Powerbank. As it has the ability to charge not one but two devices at once. Allowing the user to watch their favourite program on a tablet and keep up to date on social media on their phone at the same time.
It is nearly December, so if you have left purchasing your presents to the last minute, it's time to get a wiggle on. With free delivery and guaranteed express service on every Powerbank Plus order, you know that this gift will arrive with you in time to wrap and send the Powerbank to your loved one in time for the big day.
The Powerbank Plus, really does make the perfect Christmas present for all, so what are you waiting for? Whether you are looking for a present for your Mum, Auntie, Grandad, Brother, Daughter or friend view our products to purchase yours online today!