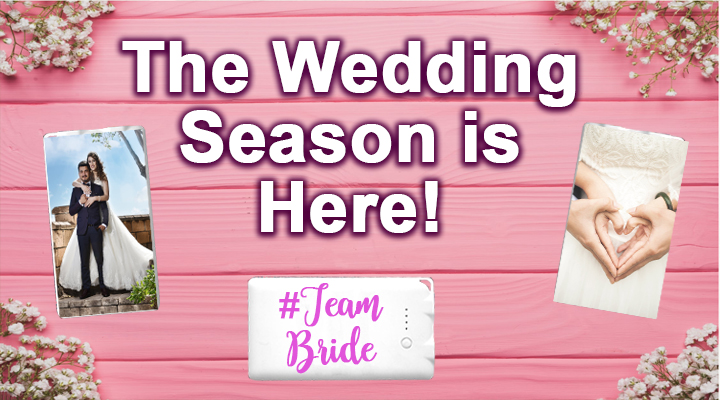 Get out your hat, put on your dancing shoes and get ready to head to the church as the wedding season has officially arrived. From now until September wedding venues will be packed out with couples that are ready to take their vows and make a commitment to each other.
But what does this have to do with Personalised Powerbanks? Our powerbanks make the perfect gift no matter the occasion and weddings make no exception.
The Hen/Stag Do
Hen and Stag dos usually last all day and/or night which is usually great for the people involved, but not for their phone's battery. And as an occasion that doesn't happen frequently, phones are usually used to capture those unforgettable moments. This is where our powerbanks come in, personalise them with Team Bride or Team Groom and gift them to the stags or hens to ensure they don't run out of charge.
The Thank You Present
It is usually customary for the bride and groom to give their bridesmaids and groomsmen a gift on the day of the wedding to say thank you for being by their side. Our Powerbanks make the perfect present for this as they can be personalised individually with images and text. They can also be used on the big day to make sure they don't run out of charge.
The Gift to the Bride and Groom
What do you get the couple that has everything? Everybody runs out of charge at one time or another so why not get them a unique and practical gift – a powerbank. They can be personalised with an image of the couple and your own unique message creating a gift they will love and will keep on giving.
So, there you go, our Personalised Powerbanks are perfect for the wedding season! Click here to start creating yours today!