Here at Personalised Powerbank, we have a range of great powerbanks to choose from. We have those that are compact and easily fit in a bag or pocket. Or ones that can fully charge your phone up to four times. However, if you are a sports fan, there is only one powerbank you should choose and that is our Football Shirt Powerbank.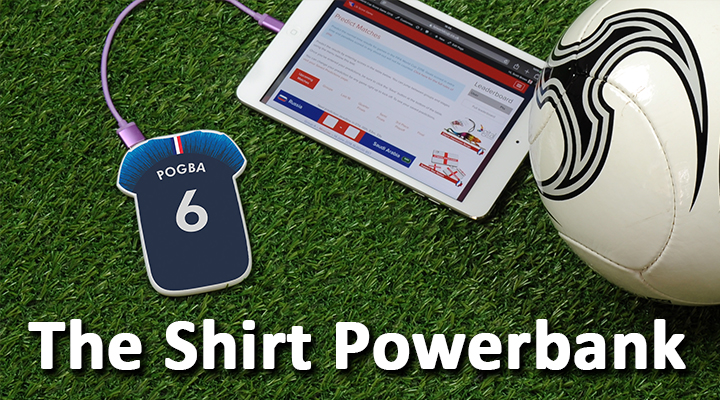 As the name suggests, our Shirt Powerbanks are in the shape of a sport shirt, making them the perfect accessory for sports fans! As with all our styles, they can also be personalised with your own image and message. But we also have three options to choose from:
Design your own from blank:
This option allows you to upload your own photo and message to the Football Shirt Powerbank, just like another style in our range. So why not add an image of your favourite sporting memory and create a powerbank with a difference.
Design your own Team Shirt:
This option allows you to create your own shirt design, add a name and number, choose a base colour, then go ahead and customise the stripes, collar, sleeve and trim of the shirt. Allowing you to create a Shirt Powerbank that looks like your favourite team's shirt!
World Cup football Shirt Powerbank:
Our personalised option allows you to add your own text to one of our existing designs. We have over 30 different options to choose from, which imitate a countries football shirt. So simply and your name and favourite number to our designs and you will be able to support your country where ever you are.
No matter which personalisation option you choose, our Shirt Powerbanks have 4000mAh. Which means they have enough power to charge your phone twice. So, whether you are at a football game or travelling, you will never have to lose charge ever again. They also have two USB ports, allowing you to charge two devices at the same time.
So what are you waiting for? Start designing your own Personalised Football Shirt Powerbank today!