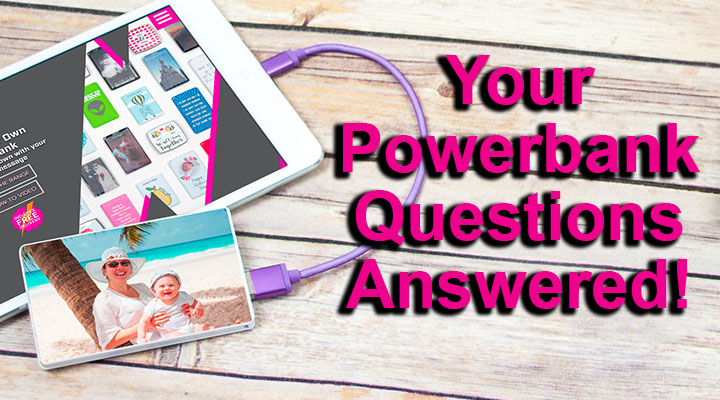 We answer all of your powerbank Questions below:
How do I to create custom Powerbanks?
Choose your power bank model, depending on what design, colour and capacity you want. Head to the Personaliser screen and use the buttons on the right-hand panel to add images and text. You can upload images from your device, choose photos from your Instagram and Facebook feed or even use the QR Reader function to upload a picture. You can move, rotate and resize images and text however you like, as well as change fonts, colour and size. Take a look at our helpful video tutorial if you're struggling. When you're satisfied, click Add to Cart and fill out the required information to order your power bank!
What is an mAH?
mAh means milliamp Hour and is a unit that measures (electric) power over time. In general, the more mAh and the longer the battery capacity or battery life. So, the higher the mAH on our Powerbanks, the more charge it will deliver to your phone.
Will my Powerbank last?
Defiantly! We only use A-Grade certified batteries that have a lifetime of at least 300 charging cycles. They are also tested by official institutes for CE and therefore comply with the strict regulations set within the EU and are manufactured according to RoHS regulations.
Can I cancel my order if I change my mind?
If you realise that you made a mistake, have a question, or you don't want to order, email info@personalisedpowerbank.co.uk with your order number and the word Cancel in the subject line within two hours of placing your order. We'll cancel the order and refund you through SagePay as soon as possible.
How long will my Powerbank take to arrive?
The delivery of all-out Powerbanks is Free. That's correct, there are no additional costs for the delivery of your powerbank, just please allow 3-5 working days for your Powerbank to get to you!
How can I get in touch with Personalised Powerbank?
Good question! You can email our customer service team at info@personalisedpowerbank.co.uk or call us on 01274 854990. Our offices are open Monday to Friday 9am-5pm.
Can I trust Personalised Powerbank?
Worried about the quality of our Powerbaanks or our experience? No need! Formed in 1994, Personalised Powerbanks parent company, LSi, has over 20 years' experience in providing some of the UK's most prominent companies with their promotional merchandise and corporate clothing.