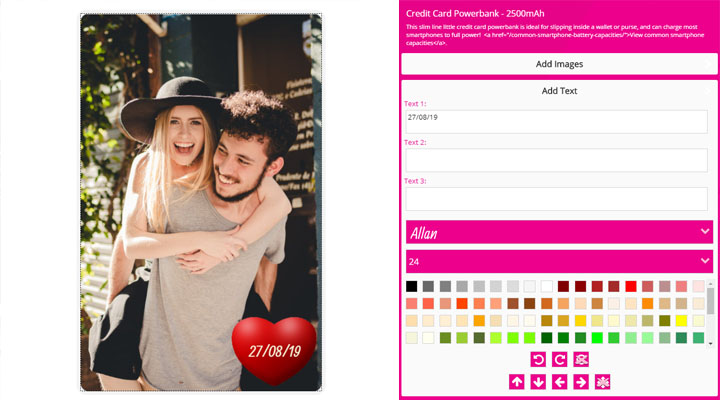 Here at Personalised Powerbank, we aim to make designing your very own powerbank as easy as possible! Which is why we have our online designer that allows you to add your text and images to a power bank, whilst providing a live preview. This way you can see exactly what your design will look like before you make your purchase.
If you would like a quick overview of how to use our designer, then you can watch our 'how to' video that is on our homepage. This video looks at the whole process of ordering your powerbank, but if you would like to learn how to create the best designs and use our personaliser like a pro, then read on.
Personaliser Top Tips
1. Some of our powerbanks are available in several colours. When you create your design, it is only printed onto one side of the powerbank, so make sure you like the colour you choose as this colour will be fully visible on the back.
2.      When you upload a photo onto one of our powerbanks, it will be inserted the same way around as the way it has been saved. If you would like the picture to be landscape, you simply use the arrow keys under the 'add image' button to rotate the image.
3.      Our personaliser allows you to upload both jpeg images and PNG images onto your powerbanks, allowing you to create beautiful designs.
4. You can add up to three images onto our powerbanks. To do this upload your first image (this will be your background image), then click the dropdown that says, 'background-image' and select the 'middle image'. Then upload your second image. If you want a third image simple select 'foreground image' and upload your next image.
5. When adding text to an image, you can write more than one line of text in each text box option. Simple press the enter button, to add another line. There are three different boxes so that you can move different the bits of text to 3 different places.
So, what are you waiting for, start designing your new Personalised Powerbank today!